In this course you will get:

 Fifty massage techniques
Full body massage
Comprehensive manual
Useful tips & tricks
Certificate of participation
Massaging and being massaged
Treat muscle nodes

All this for 247 euros
Massage course for beginners
The massage course for beginners teaches you how to give a relaxing massage for the entire body. You will learn various classical hands-on massage techniques which will relax the recipient both physically as well as mentally. You will be able to give a varied total body massage as many different hands-on techniques will be taught.
The lessons will also include a theoretical component in order to substantiate massage and the techniques used. An important part of each course are the extra attention for specific key points and handy massage tips and tricks.
The course material will be explained in sections with ample time in between to practice with the help of a trainer. This is the most productive way to learn massage.
A massage course for two participants
The massage course for beginners is given in the massage practice at home by one of our trainers. Because recieving a massage is essential for learning it, the course wll be given to two persons at the same time.
If you can't find someone else to do the course with, we can help you with finding someone else who also want to join te course of his/her own. For this we will ask your permission to shareyour phone number and/or email adres to the other person. You can use this to contact each other to agree on the date and time of the first lesson.
Then one of you can call the trainer to arrange this with her. During the first lesson you agree on the other lessons, so take your agenda with you.
prerequisite education or knowledge: none
minimum age requirement: 18 years old
education level of the course for beginners: college level (MBO level)
total contact hours: ±12 hours
self study (you will learn more by practicing often): minimum of 1 1/2 hour after each lesson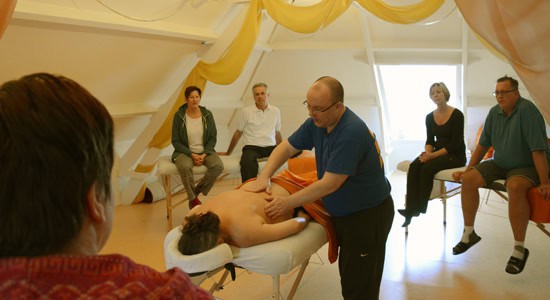 Practical information:
The price of this course is 247 euros per particpant, including manual and certificate.
Registration can be done after you have agreed the date and time of the first lesson with the other participant and the trainer. We will send you a link for our webshop.
Payment can be done with your registration with iDEAL of Bancontact.
Course location is in The Hague.
What to bring yourself?

A single-sized fitted sheet for the massage table.
A cotton blanket/towel/sheet which covers your entire body.
Wear casual easy fitting clothes.
Leave jewelry at home and have clean hands with short trimmed nails.
No outdoor shoes allowed, so you can bring slippers or shoes which are only worn inside.
Registration Massage course for beginners in English
If you want to participate on an English course, please send us a message. Let us know if you want to participate with someone else you know or if you want us to help you find someone else.
Follow us on Facebook and don't miss out on anything regarding OMB Academy.