In this course you will get:

 Fifty massage techniques
Full body massage
Comprehensive manual
Useful tips & tricks
Certificate of participation
Massaging and being massaged
Treat muscle nodes

All this for 227 euros
Massage course for beginners
The massage course for beginners teaches you how to give a relaxing massage for the entire body. You will learn various classical hands-on massage techniques which will relax the recipient both physically as well as mentally. You will be able to give a varied total body massage as many different hands-on techniques will be taught.
The lessons will also include a theoretical component in order to substantiate massage and the techniques used. An important part of each course are the extra attention for specific key points and handy massage tips and tricks.
The course material will be explained in sections with ample time in between to practice with the help of trainer(s) and assistant(s). This is the most productive way to learn massage.
Evening or weekend course?
The massage course for beginners is given in two different formats. You can either choose for the evening course which includes five lessons of three hours. The benefit of this format is that you will have time to practice in between the lessons privately.
Or you can choose for a weekend course, which will be starting both days at 10:00 and finishes at 17:00 including a lunch break. This course will either be given in one weekend or divided over two Saturdays or Sundays alternately. The benefit of this format is that you will learn the course material in a short time span.
Each course will have a minimum of six and maximum of fourteen participants. To insure ample support each course will be taught by one trainer and one or more assistants. You can register by yourself or together with someone. When you register with someone you will both have the opportunity for massage.
When you are interested to learn more hands-on techniques after this course you can attend an advanced course (estimated from second half of 2019). This will allow you to diversify the massage you give.
prerequisite education or knowledge: none
minimum age requirement: 18 years old
education level of the course for beginners: college level (MBO level)
total contact hours: ±12 hours
self study (you will learn more by practicing often)

evening massage course: minimum of 1 1/2 hour after each lesson
weekend massage course: minimum of 3 hours after each lesson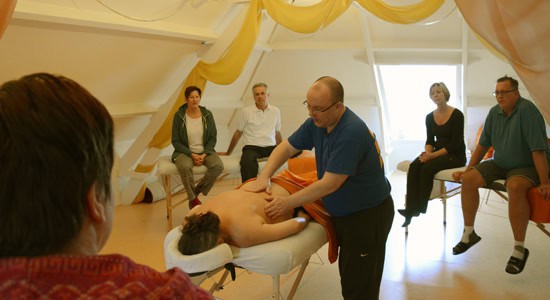 Practical information:
course times (welcome half an hour before start of the class)

weekend massage course, two days starting at 10:00 finishing at 17:00
evening massage course, 5 classes starting at 19:30 finishing at 22:30

Payment can be done with your registration with iDEAL of Bancontact.
Course location: Wajid, Osho meditation centre, Prins Hendrikplein 1, The Hague. The room where the course is given is located on the 3rd floor, no elevator available. For more information on the course venue and how to get there click here.
What to bring yourself?

A single-sized fitted sheet for the massage table.
A cotton blanket/towel/sheet which covers your entire body.
Wear casual easy fitting clothes.
Leave jewelry at home and have clean hands with short trimmed nails.
No outdoor shoes allowed, so you can bring slippers or shoes which are only worn inside.
When you participate in a day course you should bring a packed lunch.

You can register individually or together with a partner, family member or friend. All participants work in pairs. When you register together with someone else you can work together during the course. When you are looking for a private course for you and your partner you can choose for a massage course for 2.
Registration Massage course for beginners in English
Click on the date of your choice below to register via our webshop (in Dutch).
A massage course on evenings will be planned soon.
Follow us on Facebook and don't miss out on anything regarding OMB Academy.